Have you ever wondered about the impact of a high ponytail vs low ponytail on your overall look and comfort, especially when you're an extension lover? This article will take you through the nuanced differences between these two styles, offering tips, tricks, and insights that will help you choose the most flattering and manageable ponytail for your lifestyle and hair type. Low ponytail vs high ponytail, don't worry because we have got you covered.
4 Best High Ponytail Hairstyles
High vs low ponytail, from the everyday elegance of the quick high ponytail to the red-carpet sophistication of the classy high ponytail, we're here to showcase a spectrum of different high ponytail styles that effortlessly balance functionality and fashion. No matter the occasion, these are the four top-tier high ponytail renditions for you to experiment with.
Sleek High Ponytail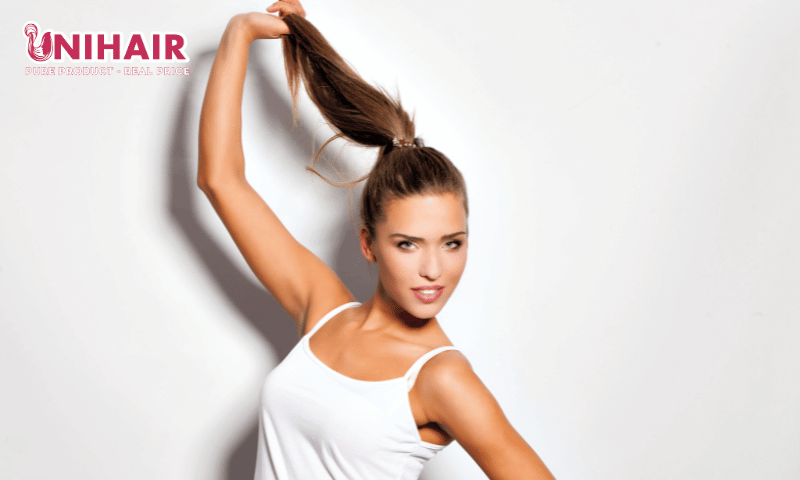 A sleek high ponytail is a timeless classic, and perfect for those days when you want to look polished and put together. To achieve this style pull your hair back into a tight ponytail at the crown of your head, making sure to smooth out any bumps or flyaways for an ultra-sleek finish. Secure with a hair tie and use some hairspray to keep your style in place. 
Bubble High Ponytail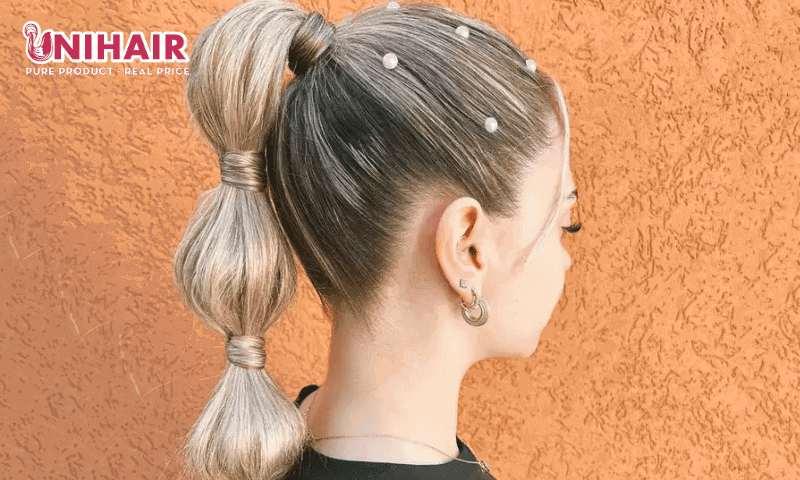 If you're looking for a more unique twist on the classic high pony, try a bubble high ponytail. To get this look begin by tying your hair back into a regular pony at the crown of your head. Then, gently pull sections of the ponytail out to create a bubble effect, and secure each section with an elastic.
Messy Textured High Ponytail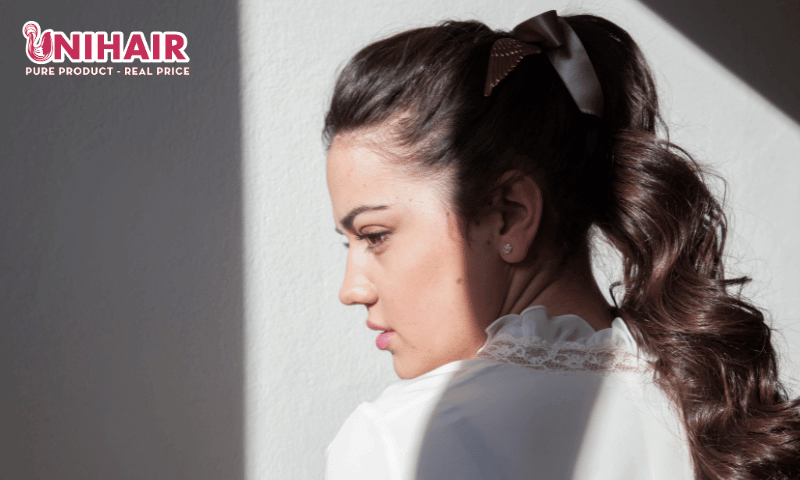 For those days when you want to rock a more relaxed style, try the messy textured high ponytail. Start by spritzing your hair with texturizing spray for some added volume and gripping power. Then pull your hair back into a high pony and use your fingers to tug at the sections of the ponytail for more texture. Secure with an elastic and you'll have a perfectly tousled high ponytail in no time. 
Wrapped High Ponytail With A Bow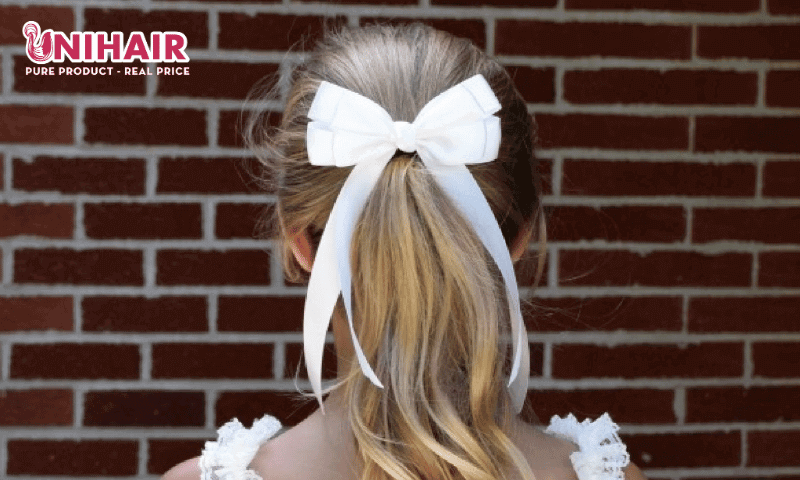 If you're feeling extra girly, try this wrapped high ponytail with a bow look. Start by tying your hair into a high ponytail and wrap a section of hair around the elastic to cover it up. Secure with bobby pins and use hairspray for extra hold. Then pull out some pieces around the face for more texture, tie a bow onto the ends of the ponytail, or add a ribbon scarf for an extra-sweet touch. 
No matter what style you're going for, a high ponytail is an easy and chic hairstyle that can take you from day to night. Experiment with different styles and textures to find the look that works best for you! 
4 Best Low Ponytail Hairstyles
If you've ever wondered how to wear a low ponytail that effortlessly exudes chic sophistication, you're in the right place. In terms of high ponytail vs low ponytail, the low ponytail, often underestimated, holds incredible potential to transform your look from casual to classy. Here are four exquisite low ponytail variations that are sure to become your go-to choices for various occasions.
Sleek Low Ponytail With A Part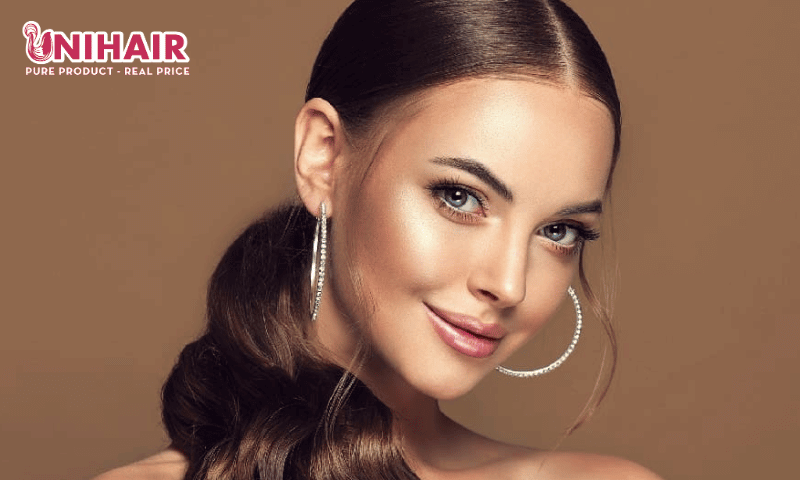 The sleek low ponytail with a part is a chic and sophisticated hairstyle, perfect for formal events or a professional setting. This style lends a sleek, polished appearance, achieved by creating a crisp part, often at the side or down the middle, and pulling your hair back into a polished low ponytail.
Loose Side-Swept Low Ponytail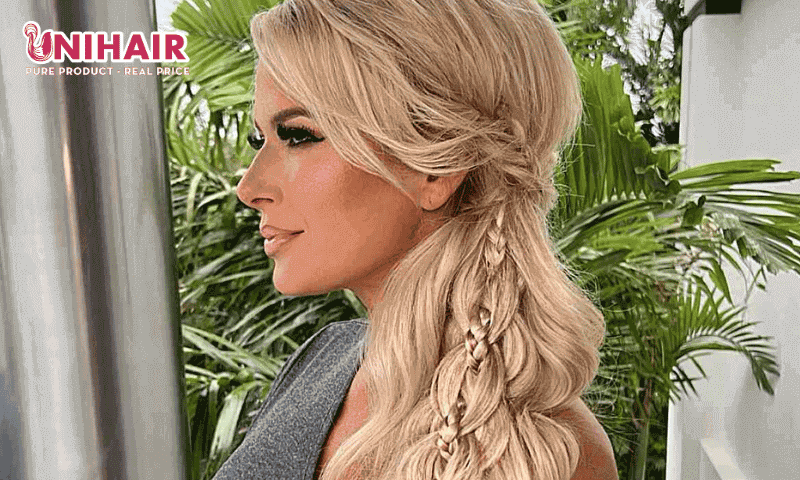 The loose side-swept low ponytail is a versatile, casual hairstyle offering an effortlessly cool look. This style is achieved by loosely pulling your hair to one side, securing it into a low ponytail and leaving a few strands free for a touch of whimsy and romance.
Braided Low Ponytail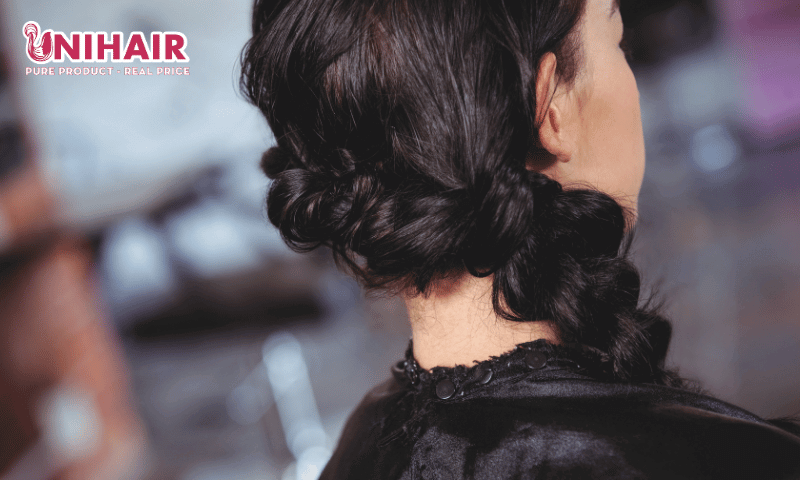 A low ponytail braid combines the classic low ponytail with the intricate detail of a braid. This hairstyle can be personalized with different braid styles and is perfect for adding an element of interest to a classic look, making it a favorite for special occasions or everyday wear.
Messy Low Ponytail With Textured Waves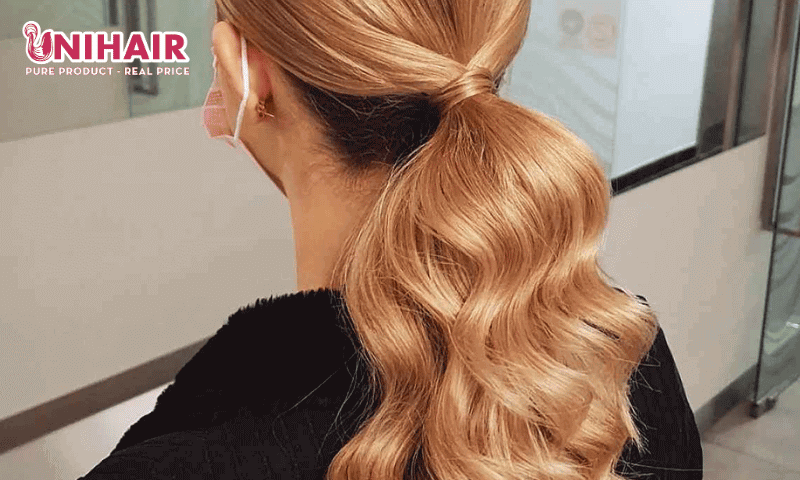 The messy low ponytail with textured waves is the epitome of casual chic. This hairstyle is achieved by creating waves in your hair with a curling iron or sea salt spray, then loosely pulling your hair back into a low ponytail. The messier, the better, as this style thrives on a little bit of chaos.
To keep it looking polished, be sure to secure the ponytail with an elastic band of the same color as your hair. 
For those looking for an effortless and chic look, the low ponytail is a great choice. Is a low or high ponytail better? Well, with so many different styles and variations, you're bound to find one that suits your style when it comes to low vs high ponytail! Whether you want to keep it sleek or go for something more textured, the possibilities are endless. 
8 Tips Of High Ponytail Vs Low Ponytail For Extensions Enthusiasts
Hair Extension Type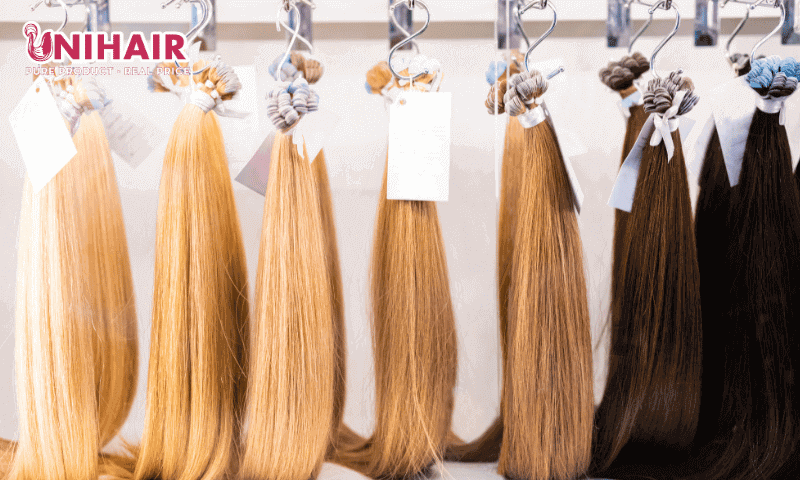 When deciding between a high ponytail and a low ponytail for hair extensions, consider the type of extensions you have. Clip-ins or tape-ins are great for high ponytails as they can be strategically placed to create a seamless blend with your natural hair. On the other hand, sew-in or bonded extensions might work better for low ponytails, as these extension types are typically more secure and won't move around as much in a low ponytail.
Comfort
Comfort is another crucial factor to consider in high ponytail vs low ponytail. High ponytails can create tension on the scalp and may not be comfortable for extended wear. However, they offer a more youthful and fun look. Low ponytails, on the other hand, are generally more comfortable and can be worn for longer periods without causing discomfort, making them an ideal choice for those prioritizing comfort.
Natural Hair Length And Volume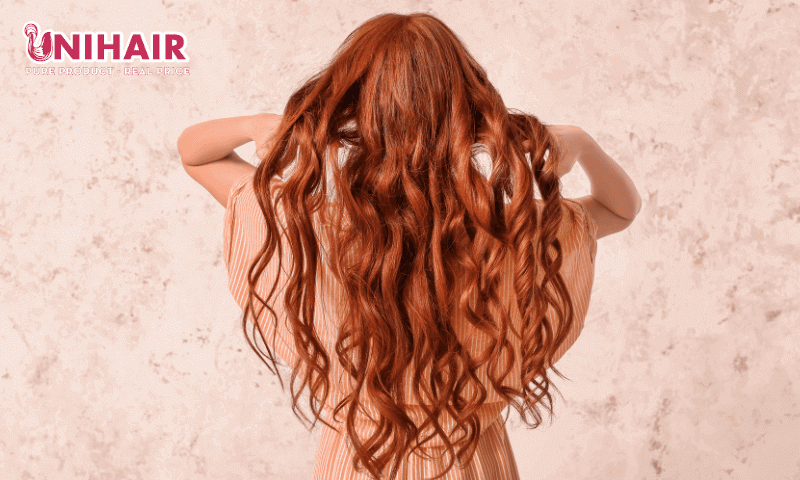 Your natural hair's length and volume can also influence whether a high ponytail vs low ponytail is better for you. If you have shorter hair or lesser volume, a high ponytail with extensions can add the illusion of length and fullness. Conversely, if you have naturally long or thick hair, a low ponytail might be more comfortable and manageable.
Hairstyle Preference
Moreover, your personal hairstyle preference plays a significant role in choosing between high ponytail vs low ponytail. If you prefer a more casual, relaxed look, a low ponytail is a good choice. But if you're going for a more polished, chic vibe, a high ponytail with extensions can add that extra edge to your style. High ponytail vs low ponytail, you should always remember that the best hairstyle is the one that makes you feel the most confident and beautiful.
Occasion And Activity Level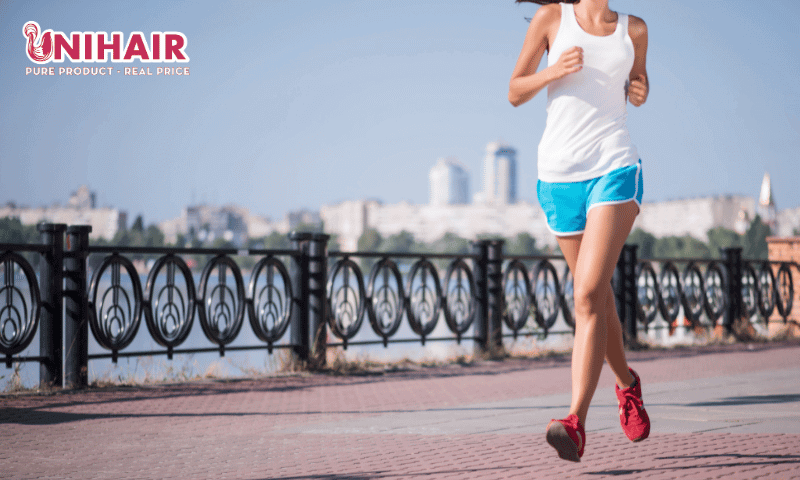 In terms of high ponytail vs low ponytail, consider the occasion and your activity level. A high ponytail exudes a sense of sportiness and is perfect for workout sessions or casual day outings. In contrast, a low ponytail carries an aura of elegance, making it a great choice for formal events or office environments.
Hair Extension Attachment
The way your hair extension is attached can also influence whether a high or low ponytail is better. If your extensions are attached to the crown of your head, a high ponytail can beautifully display the length and volume of your hair. Alternatively, if extensions are attached around the nape of your neck, a low ponytail can gracefully showcase your hair's body and texture.
Face Shape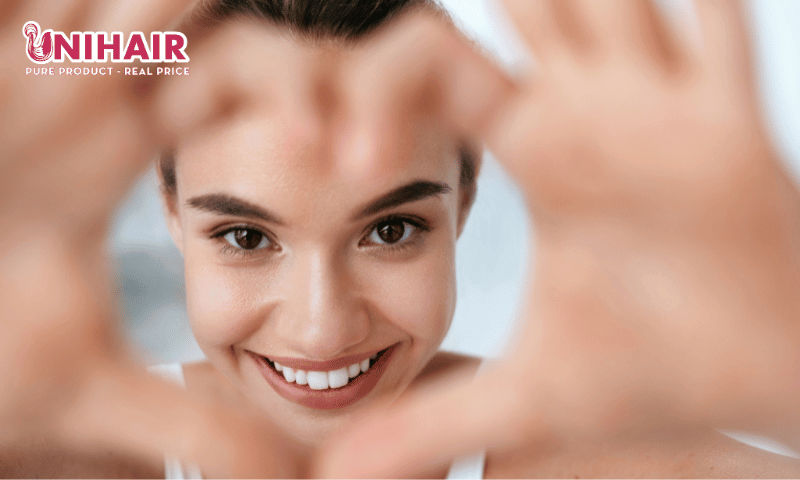 Your face shape is another crucial factor to consider in the high ponytail vs low ponytail debate. Generally, high ponytails can elongate the face, making them flattering for individuals with round or square face shapes. Low ponytails, on the other hand, can soften the features of those with more angular face shapes like heart or rectangular.
Hair Extension Length
Lastly, the length of your hair extensions plays a role in determining which ponytail style – high ponytail vs low ponytail – is preferable. Longer extensions may look more dramatic and eye-catching in a high ponytail while shorter extensions can look chic and understated in a low ponytail. Remember to consider your overall look and what you feel most comfortable wearing.
Conclusion
In conclusion, the choice between high ponytail vs low ponytail is largely dependent on personal preference and the occasion. While a high ponytail exudes a youthful, energetic vibe, making it ideal for casual, sporty settings, a low ponytail is associated with elegance and sophistication, perfect for formal occasions. Therefore, neither style is inherently better; the choice should align with your personal style, comfort, and the nature of the event.
If you really want to buy ponytail hair extensions with high quality and cheap price, you should buy directly from hair factories to obtain the cheapest pricing. Unihair-Vietnam Hair Factory is one of the top ponytail hair extension wholesale providers on the market, and you really should select them.