One of the finest methods to cut your hair while still looking stylish is with a short straight bob hairstyle. Here's the best top short bobs
2022's Most Fashionable Short Straight Bob Hairstyles for Women
Are you sick and tired of having the same length hair? Are you at a loss on how to style your lengthy locks? We are aware of the next reduction to try. Among the fashionable short straight bob hairstyles! A great approach to momentarily freshen things up is to play with length. Because there are so many different styles and cuts that may be done, a shorter cut can flatter all facial shapes and hair types. For a sexier, lighter hairdo, spice things up with a shorter length. Here are several looks that will encourage you to get a short straight bob haircut if you're hesitant to trim your lengthy hair.
What is the meaning of Short Straight Bob?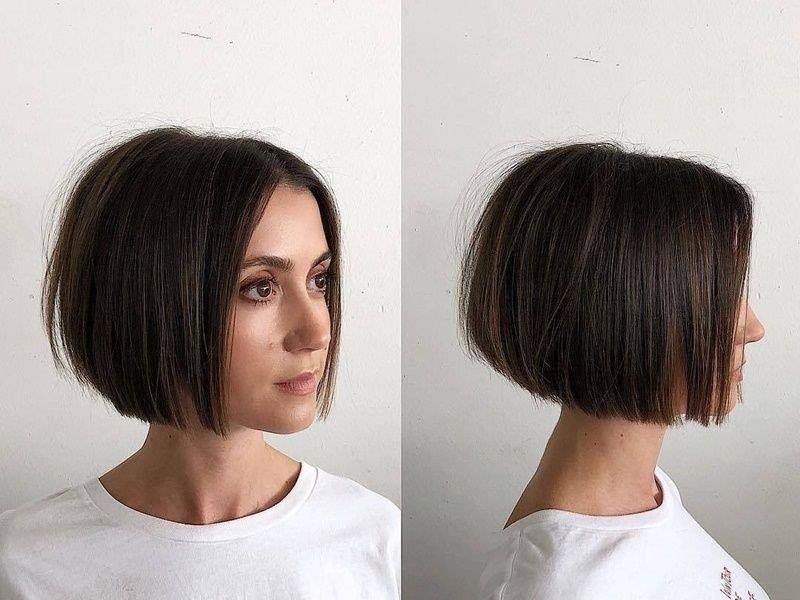 A short straight bob is one that is cut between the ear and slightly above the shoulders. Short hair may be cut in a variety of styles, including angled, graduated, inverted, asymmetrical, and many more. Your short hair may be styled in a variety of contemporary and original ways to reflect your individuality. A shorter bob may be a terrific haircut for you to make a statement, regardless of whether you're a rocker with attitude, the girl next door, or the avant-garde trendsetter.
Although a short straight bob looks wonderful on hair of any texture. The original style was worn on hair that was completely straight. This is so that the structure of the haircut may emphasize the straight hair's naturally flowing texture and give it a feeling of sharpness. Additionally, a haircut may provide a ton of volume to your straight hair, giving it a hefty twist and an aggressive image!
Classic Short Bob
You can be certain that a haircut is the one you shouldn't make a mistake with if the word "classic" appears next to its name. The original version of the dominating bob hairstyle has an evenly balanced chin-length body and sharpened ends for an angular shape. The appearance is given a very polished, sophisticated character despite the structure's simplicity.
Additionally, you can always add layers, feathers, or jagged ends to this cut to give it a unique feel. Even yet, this incredible cut has a gorgeous initial appearance when it is sleek and straight. Furthermore, it may change to match whatever appearance you choose to present.
Straight Stacked Bob Cut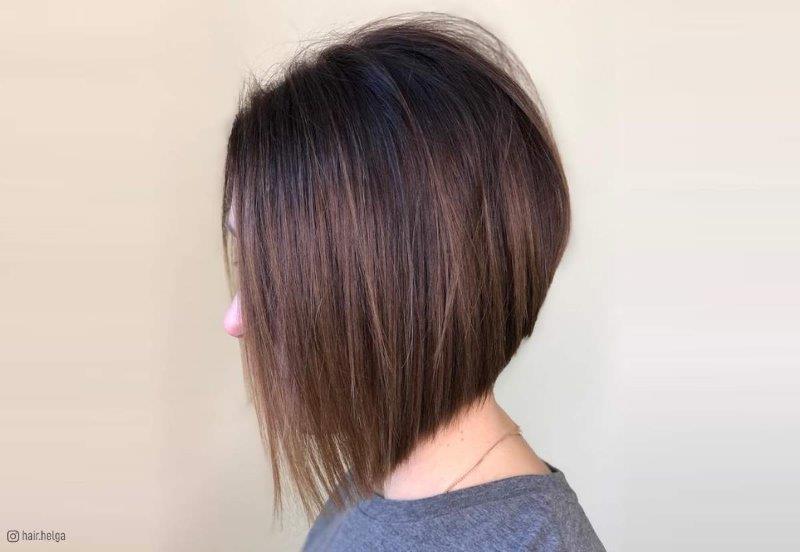 Styling a short, stacked bob is the most easygoing, simple, and fashionable option there is. The hair on the front of the head is longer than the hair on the back, which has a slightly inclined length. In other words, you may create the look quickly and easily with a flat iron or a round brush and a hairdryer.
The nicest part is that you can control how sharply the lengths graduate: you can either make the front much longer than the rear or simply alter the angle. For instance, this look has a perfectly balanced stacked bob with somewhat longer front hair. And it looks fantastic, especially on thin hair because the length of the cut prevents heavy long hair from overpowering the volume of your locks.
Neatly Rounded Bob
For ladies with thick hair, there is a magnificent haircut that may genuinely bring out the depth and richness of your particular hair type. First off, going short is preferable since the pattern will be more springy the shorter the length. Second, don't forget to texturize your ends to acquire the desired form.
By transforming unruly strands into a round, well-shaped, and incredibly voluminous mane, this beautifully rounded bob just elevates thick hair to a new level. Once more, all you need to maintain this cutie's style is a round brush, a blowdryer, and a few minutes.
Short Bob With Sharp Edges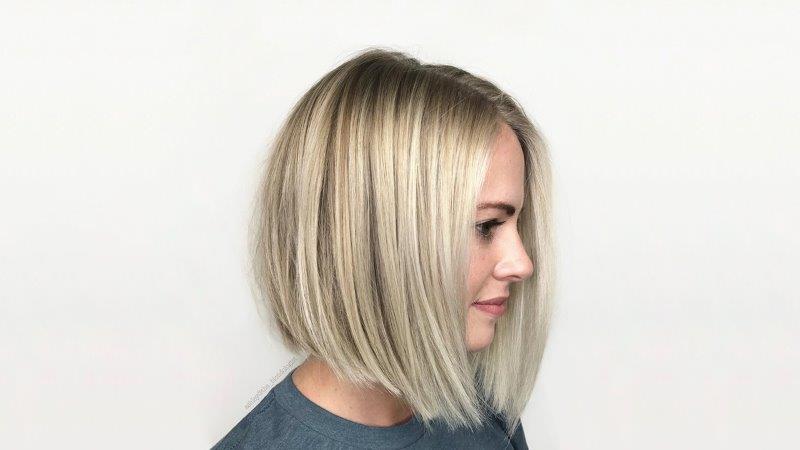 Not only can women's styles and hair types benefit from layered short bob haircuts, but so do both. Since their hair's sharp edges fall dramatically on one another, people with fine and thin hair can amplify their outlines and make their hair look bigger. Additionally, if you have thick hair, these sharp ends can lighten your mane and eventually offer you a feeling of lightness and manageability.
Let's concentrate on its aesthetic aspect now. It's difficult to see anyone ignoring this concept given how well these crisp layers contribute to the visual impact.
Textured Brown Side-Parted Bob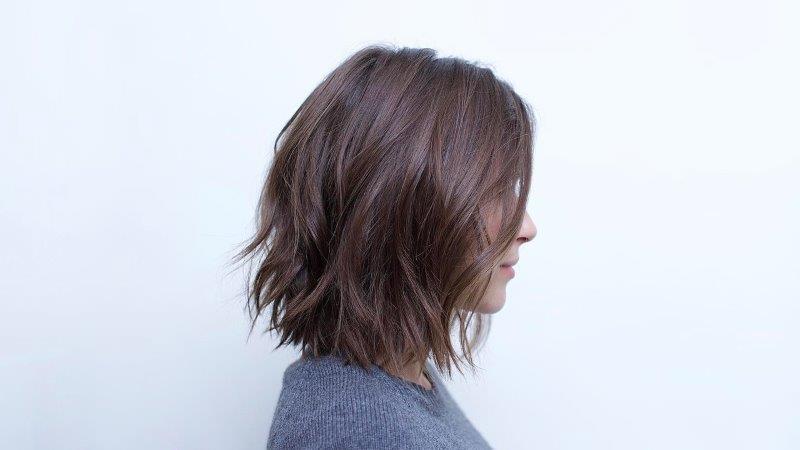 For some reason, when most women think of hairstyles, they envision intricate braided updos or hair that has been well conditioned. The greatest hairstyle, however, is one with a well-groomed form and lovely finish that lasts all day. Use softening mousses to condition your bob, use a nozzle to style it. And finish the look with a fine salt spray to emphasize the texture. With just a few minutes' work, you may get a dazzling appearance for any situation with the help of these tips. Flip the bob on one side for a flirtier look!
Short Bob With Middle Haircut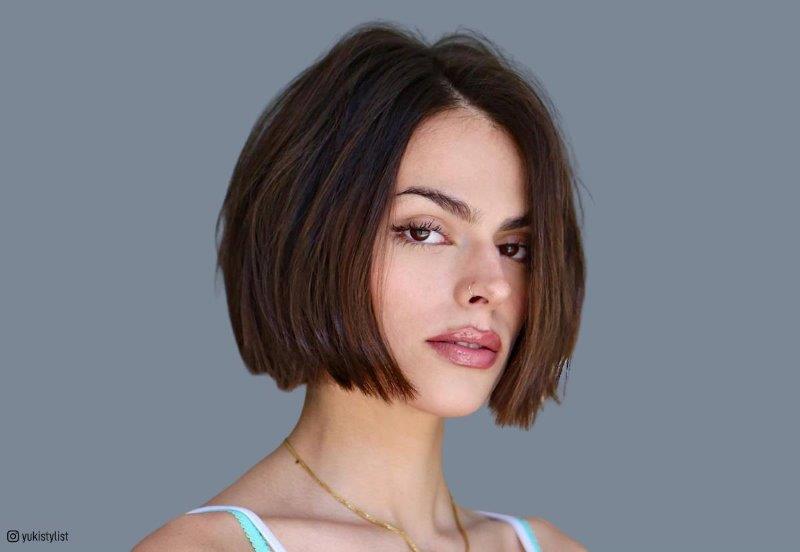 A feminine bob hairstyle could be something you're considering. Women who favor comfort over lengthy or dramatic fluffy hairstyles typically wear middle part bobs since they are incredibly sleek and stylish.
As it has no bangs, this cut will allow you to wear your hair carelessly. Because it won't frequently come into contact with your face. It will look best on ladies who prefer simple hairstyles.
Hairstyles with a middle part may elevate your hairdo to a whole new level. They not only frame your face in a way that flatters it. But they also give the traditional short bob a more contemporary feel. Don't miss this suggestion if you wish to enhance some of your face characteristics while still being current with fashion. Reddish hues are also popular right now.
Short Angled Bob Hairstyle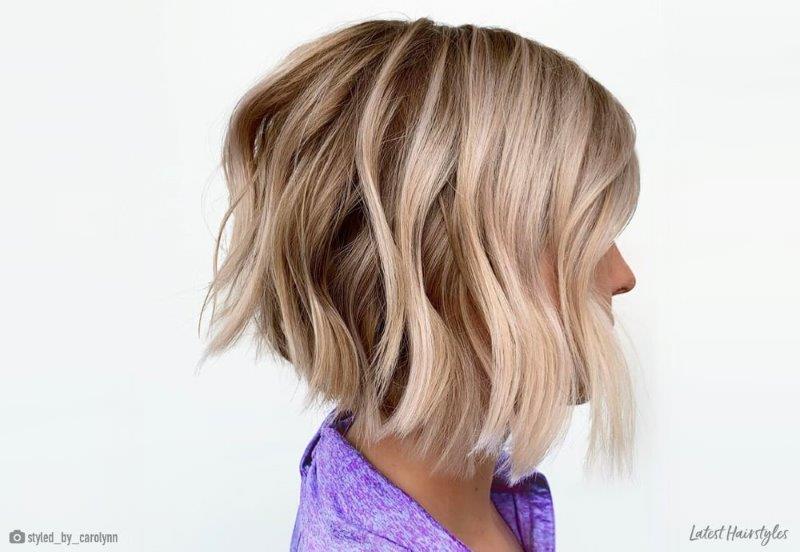 A short angled bob is a short hairstyle for women that is longer in the front and shorter in the rear. Since the dawn of time, this hot cut has been the most sought-after bob style thanks to its practicality as well as extreme fashion sense and versatility.
You've probably seen pictures of Hollywood-style stars Jourdan Dunn, Regina King, Gabrielle Union, and Emily Ratajkowski flaunting voguish short hairstyles with angled cuts circulating online. When designing their complementary haircuts, their hairstylists took into account the details of their faces and the types of their hair.
There are several ways to style an angled bob-cut, much like Orlando-based hair stylist Gerilyn Ghaisarzadeh, who fits her customers' faces and personalities with appropriate hairstyles and even brilliant colors. Style with beach waves for a loose, bohemian attitude or iron it straight and smooth to beautifully define that angle. You won't run out of ideas to attempt for your tresses.
The adaptability of angled bobs is not their only outstanding feature. Additionally adding fashion points is how simple it is to maintain short cuts!
Should layers be worn in a short straight bob?
In fact, layered bobs are something that anyone with thick, short straight bob hair may think about. Few tiny layers give the cut structure and curve, preventing it from looking bottom-heavy. If you have a narrow, long-shaped face, a layered bob can be your style since the layers will give your face breadth. Make a different hairstyle choice if your face is round.
In Conclusion
Manageable and simple to style is short straight bob hair. The ease with which short hair may be maintained is something that anybody who has cut their hair short can attest to. Hairstyles can be combined with short straight bobs. To make your hair look fuller and thicker, you can leave it uncombed. It seems thicker the messier your hair is styled. With a few layers and curls, you may emphasize your disheveled appearance. It is simple to style sloppy short straight bobs.
Phone/Whatsapp: +84 905 97 1188
Email: wholesale@unihairvn.com