About Unihair – Vietnam Hair Factory
Unihair is a brand of Unicorps Trading Import Export Joint Stock Company in Vietnam. Unihairvn is one of the top Vietnam wholesale hair suppliers, is an internationally known human hair extensions brand with retail stores and distributors throughout the United States, Europe, Asia, Africa and Central America.
During years of experience in this natural human hair extensions market, our staff can supply the extension solution for wholesalers and consumers. Our products were collected from Vietnamese and ethnic minorities in Vietnam. Therefore, all our hair is virgin or remy with the natural cutting methods. Our slogan is "Pure product, Real price". It means that the hair quality and the suitable price are key criteria and core value of our company.
Our goal is to provide you with consistent access to a variety of best hair products that are versatile and last for a very long time.
Our Prices
We are direct factory can ensure the direct factory price.
Our Quality
As we are direct factory we can control the quality from material to finished products.

Our Story: Unihair of Yesterday, Today, and Tomorrow
Unihair was established by Mr. Jame who always wanted to bring the best quality hair to his customers. He wanted the world to know Vietnamese human hair for quality, color or even service. After several years of trials and tribulations, with the extraordinary leadership and the wise vision of Mr. Jame, Unihair gradually gained a small, but deeply loyal client base. Some years later, Unihair was known by over 100 wholesalers in the USA, Nigeria, South Africa and Russia.
Unihair has grown exponentially over the past several years into a strong and thriving organization of highly motivated and exceptionally talented individuals. Through branding and insightful marketing, Unihair placed itself in the top-tier of the market and is currently regarded as the go-to company for the highest quality Vietnamese hair extensions.
Through the process of development, from a small hair purchasing place to now, Unihair has grown and has more than one hundered thousand cooperators in the world. With a financially strong revenue base and a triple digit year-on-year growth, Unihair is quickly becoming a leader in the Vietnamese human hair industry and the supplier of the best hair products in the world. Since this time, we have built our own brand and strong position in the international market with great partners from many countries such as the UK, Brazil, France, Germany, Italy, Israel, Argentina, etc…
Why you should choose Unihair?
High quality hair and clear traceability
We are committed to only selling real hair – Vietnam raw hair which is the highest quality hair in the world since it is 100% natural. Hair is nourished healthy by highland women, and we pay them to help them have better lives, feed their own families. Unihair has been licensed to use sourced hair, in accordance with the standards set forth by ISO. We make quality products, with the mind and vision of the craftsman.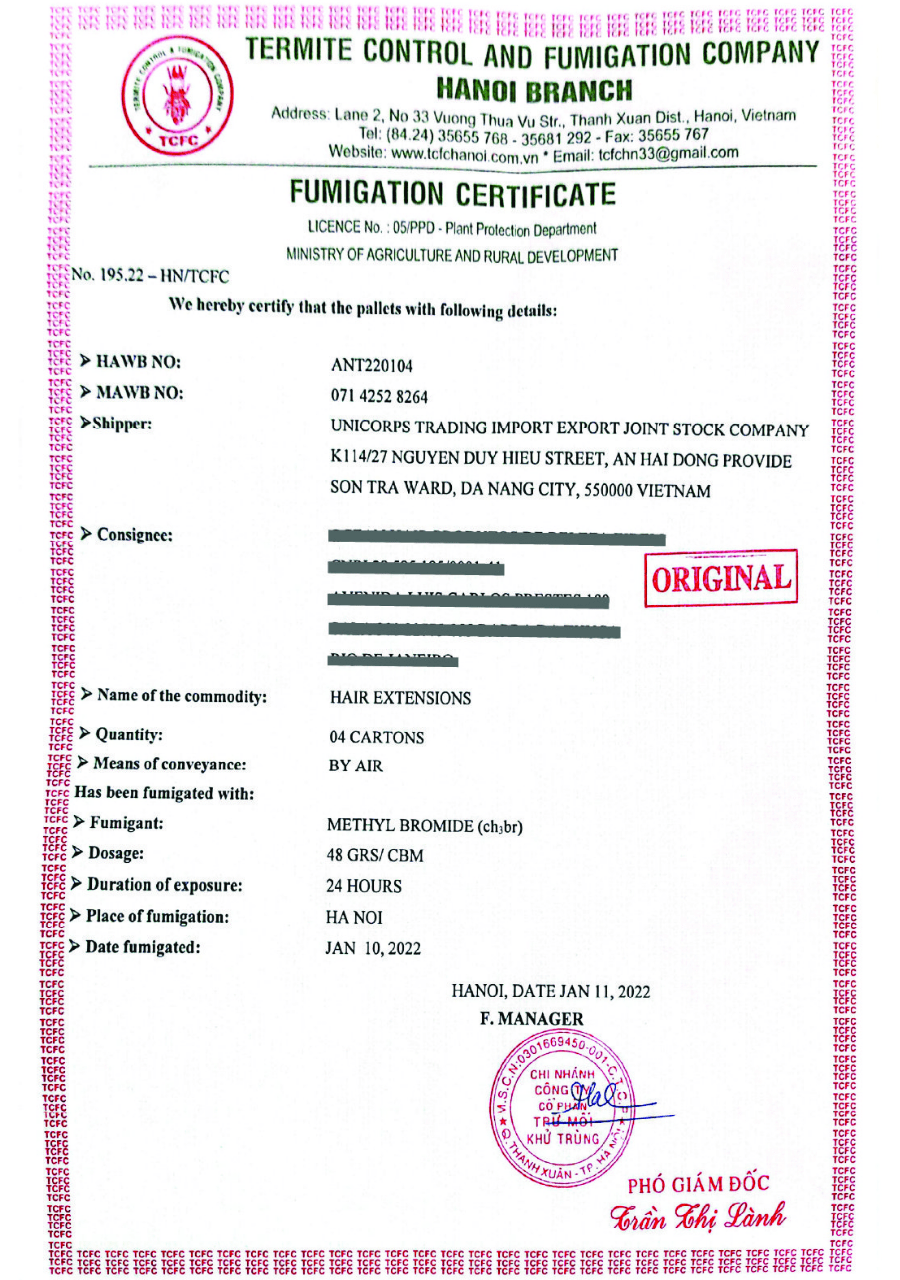 Our main products are different kinds of bulk hair, weft hair, closure, frontal, wig and various hair extensions such as: tape in, clip in, U/I/V tip, nano ring, micro ring, ponytail,… With our ambitions, we participated in a fair in China to show our Vietnam Hair products. At that fair, our Vietnam Hair were displayed to get attention from potential customers. Lots of African customers were very impressed with our high quality products and customer service.

Unihair is a human hair manufacturer with its own factory​
Besides quality products, Unihair's pride also lies in its factory. Unihair is a manufacturer of human hair, we buy and produce legal hair with a large workshop scale. Vietnam wigs factory has more than 100 employees. Our factory can produce 1000 products per day.
The factory will be divided into many different production areas. Corresponding to each area, there will be specialists in charge. Therefore, we are very confident that the products we create will satisfy every customer. Vietnam hair factory always quickly updates the trending hairstyles, thereby creating hair products with eye-catching designs and hot trend colors to meet the beauty needs of every customer.
The best price in the market​
We have direct factory can ensure the direct factory price. Our factory is operated scientifically and optimally, so our price is the best compared to other wholesale vendors in Vietnam and is extremely competitive in the world market.
Friendly sales support team
Unihair owns a dynamic, young and enthusiastic team. Besides, our team also has aesthetic taste and deep knowledge about our Vietnam hair. With an experienced and customer understanding team, Unihair is sure that you will be satisfied not only with our Vietnam Hair products but also with the dedication of the company's team.
All staffs have good English communication skills, so you don't need to worry about discussion. In addition to English, they can also speak Portuguese and Russian. Our team will always support you 24/7 whenever you need it and bring to you the best Vietnam Hair products.

Vietnam Wholesale Hair Extensions
Today, the hair market is increasingly popular and thriving. Many hair businesses have been established all over the world. However, with the noble mission of providing the best quality hair products with the most reasonable prices to customers, Unihair wishes to reach out to the international market and gain the trust of customers.
For people who would like to establish a long term business in this industry we always welcome and have the most suitable price for your typical orders. Especially, Unihair can help customers increase their business competitive advantage by creating C.O documents to reduce import tax to 0% in some countries. This will help our customers buy hair at the best price.
Please feel free to contact our representative directly to get the right quotation meeting your demands:
Hotline/WhatsApp: +84 905 97 1188 (Mr. James – CEO)
Email: wholesale@unihairvn.com
VK8353
OR Contact our sale team members now via WhatsApp:
– Miss Ave: +84 35 9708 128
– Miss Yumi: +84 90 5007 164
– Miss Tiffany: +84 93 5570 915
– Miss Daisy: +84 788 6121 99
– Miss Sam: +84 905 007 596
– Miss Amee: +84 905 006 287
– Miss Jade: +84 905 007 426
– Miss Doris: +84 905 007 548
– Miss Mary: +84 90 5008 051
– Miss Lee: +84 77 4456 127 or +84 122 4456 127
– Miss Irene: +84 166 9237 682
– Miss Iris : +84 84 244 2828
– Miss Mia: +84 90 5008 574
– Miss Jenny: +84 96 4688 943
– Miss Helen: +84 905 008 372
– Miss Carrot: +84 90 5008 417
– Miss Anna: +84 905 117 588
– Miss Bella: +84 90 5008 076
– Miss Lisa: +84563982069
– Miss Jane: +84 905 531 974
Every process of Unihair shows professionalism, always putting product quality and customers first. Therefore, choosing Unihair as a business partner is a wise decision. If you have any doubt about our identity, please visit our social channels: