Trying to think of ways with your next hairstyle? For every hair type and aesthetic, we have the most fashionable long straight bob hairstyle
Sexy Long Straight Bob Hairstyles You Should Try In This Year
The long straight bob has undoubtedly been the most popular hairdo this year. This fashionable cut, sometimes referred to as a lob, is a go-to for many 2017 "it" ladies, models, and celebrities. This stylish cut can work with a number of facial types and hair textures, and it is as adaptable as it is universally attractive.
All you have to do is choose the version that works best for you. But today that there are so many variants and alternatives, picking the ideal lob haircut can be challenging. Fortunately, we've put together a list of the top long bob hairstyles for every hair type to make it easier for you to discover your perfect match.
Extremely fashionable long straight bob haircuts for thick, silky hair
This haircut looks fantastic on faces with an oval to round shape. The idea behind it is actually a timeless one for long, angled bob haircuts. But the dramatic asymmetry between either side has modernized it to the nines. A chin-length short layer breaks up the line on the shorter side, and the angle from the rear is extremely sharply cut.
Long A-Line Bob Haircut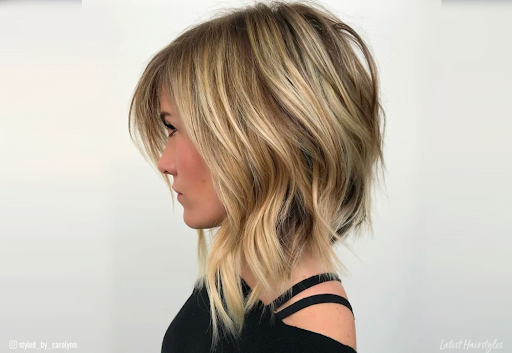 Hairstyles with a long A-line have a longer front and a shorter rear. The end result is a fashionable haircut that tapers toward the face. It may be styled either straight or curled for a sophisticated appearance.
A mid-length bob haircut with a long A-line is one that is short in the rear and noticeably shorter in the front. Long A-line bobs have lately gained popularity among celebrities and professional stylists because of its incredible adaptability and high-fashion appearance.
The top four celebrities who enjoy the A-line lob are Gwyneth Paltrow, Jessica Chastain, and Taraji Henson. Undoubtedly a fan favorite, it is incredibly wearable due to the length, flexibility and styling options.
Haircut: Long Bob with Bangs
It goes without saying that long straight bobs with bangs are in vogue right now. From Kaia Gerber to Billie Eilish, everyone has been seen sporting the shoulder-length style, and it somehow looks good on everyone. It's a flexible haircut that looks good on a variety of various hair types. And it may range from shaggy styles (we're looking at you, Miley) to sleeker appearances.
Why not attempt a long straight bob with bangs if you want to flaunt a daring lob style? This trendy length combined with chic bangs yields excellent results. Request a choppy cut to prevent the appearance from seeming overly heavy.
Long Bob Hairstyle with Layers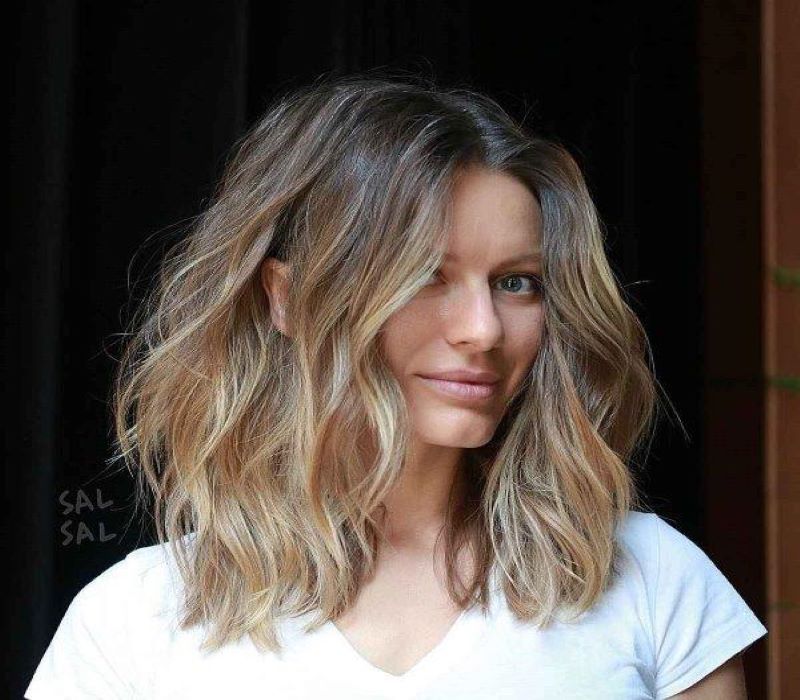 One of the most universally attractive haircuts is long, layered bobs and lobs. The style may work with a variety of facial shapes and hair types. Because of the short-to-medium length layers that lend movement and structure to the cut.
One of these trendy long-layered bob haircuts is definitely something you should think about. If you want to give your thin hair more texture or thickness. Whenever the hair length is below the chin and above the collarbone and is cut like a bob. The style is referred to as a long bob (sometimes called a lob). If you have long hair and are considering a haircut, a Lob could be the style for you as layers are still trendy this season. To increase movement and volume, add some lovely layering.
For a round face, wear a long bob.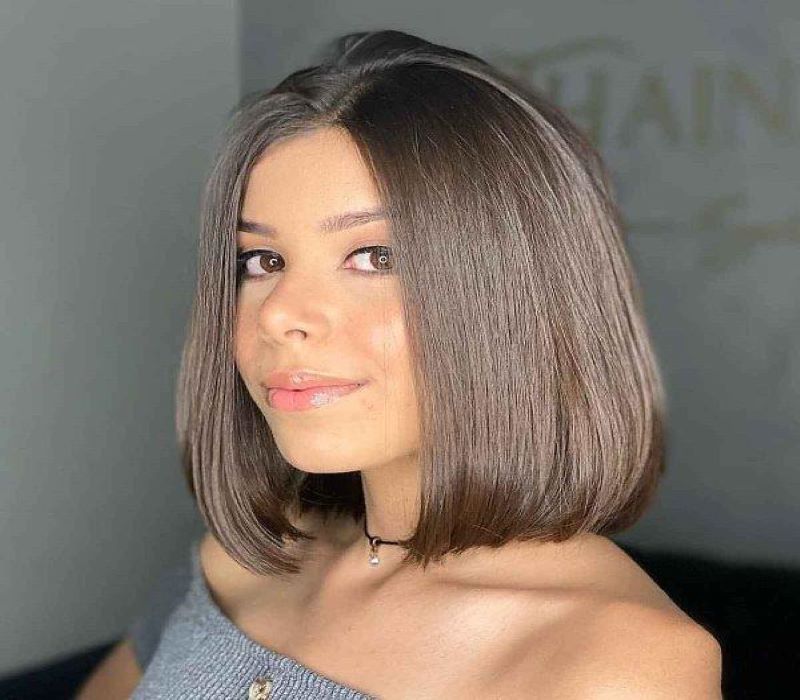 A long straight bob, often known as a lob, is frequently one of the most appealing haircuts for women with round faces. Because of their additional length, lobs can actually make your face look slimmer. In contrast to short bobs, which can make your face appear rounder.
A bob can be short, medium, or lengthy in length. Ask your hairdresser to cut your hair into a bob if you want to rapidly thin out your face. For a rounder face, add layers and bangs to bobs to create a distinctive, modern hairstyle that's great for you!
Finding long straight bob haircuts that suit round features might be challenging. The secret to a fantastic cut and style for this face shape is to emphasize other characteristics. Such as the eyes, to provide the appearance of length. This may be done by choosing cuts with angles and colors that stand out, adding height at the crown, or any combination of these.
Making a bob haircut with unique angles to frame the face is the key to balancing a round face. No matter what length you go with, always think about finishing your look with a side-swept fringe or any sort of face-framing layers!
Long Bob Hairstyle with Curls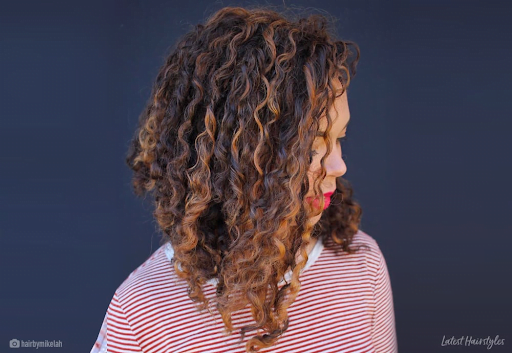 Do not feel as though having curls prevents you from sporting a long straight bob hairdo. If you embrace your natural texture and volume, a long curly bob may look very chic.
For naturally curly hair, a long curly bob is a women's bob haircut that is cut midway between the neck and collarbone. This attractive haircut will encourage you to embrace your curl even more. If you enjoy showcasing the natural texture of your mane!
When cut at this adaptable length, all the ways to work with coils, kinks, and curls are demonstrated to be possible. To give your locks a stunning body, use an inverted or stacked cut or opt for a fringe to give it an edgier appeal.
Haircut: Long Inverted Bob
A long bob with an inverted cut has a longer front and a shorter rear. Stacking the layers adds movement to the hair and can help decrease bulk without sacrificing volume.
The rear of a long inverted bob is shorter than the front, which progressively becomes longer until it reaches the shoulders or collarbone. You may have length and mobility with this universally appealing bob haircut without having to deal with the problems associated with either long or short hair.
If you're thinking about getting a long inverted bob, you should know that this style is quite adaptable and looks well on all types of hair, regardless of texture, season, or unusual facial shape. You may alter both the angle and the length for a haircut that properly suits you based on the outcome you want.
Inverted bobs may be fashioned in a wide variety of amazing ways and with a variety of textures. This is why many people, like fashion A-listers Gabrielle Union, Keira Knightley, Sevyn Streeter, and Emily Ratajkowski, sport an inverted lob cut!
Long Blonde Bob Hairstyle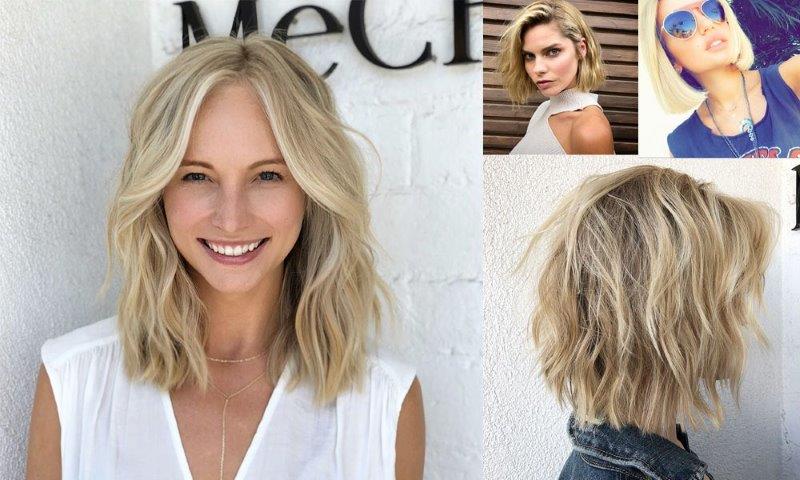 Consider sporting a long blonde bob haircut for a trendy and elegant look if your hair is naturally light. Even some unkempt waves can be added for the ideal beachy look.
A blonde bob is a short to medium length haircut that is tinted any shade of blonde and is around shoulder length. Slashing down to a light shade and a cropped cut might be a revitalizing outcome if you're sick of long hairstyles and dark or colorful hair hues!
There is sure to be a blonde hue that will let you exhibit your unique personality this year. Because it is the year to be bold and revealing. You're guaranteed to have a style that is oh-so-flattering when paired with a bob cut that conforms to the curve of your face!
Taylor Swift, Reese Witherspoon, Kim Kardashian, and Taraji Henson have made very badass blonde bobs their trademark looks for a while now. And they've shown that this haircut works wonderfully with all complexion tones and hair textures. Justin Dillaha, a hairdresser and colorist from Florida, develops various lengths and types of blonde bobs on models to show how important texture is to the success of this haircut.
In Conclusion
Long straight bobs may be styled in a variety of ways. You may style it in a variety of ways, such with curls, layers, bangs, an a-line cut, or both. You could part your hair in the middle or on the side, braid it, dye it a fun color like pink or purple, or add lovely beach waves or a shaggy texture.
Phone/Whatsapp: +84 905 97 1188
Email: wholesale@unihairvn.com