You should be informed of the benefits and drawbacks of U/I/V Tips hair extensions before deciding to purchase them.
U/I/V Tips – The 3 Favourites Types Of Tip Hair
It is indisputable that everyone wants to look beautiful. Altering our hairstyles is one of the most important things we can do to improve our appearance. Tip hair is the way that never goes out of style, which is why hair extensions are becoming more and more fashionable nowadays. Here, we highlight the top hair types for U/I/V Tips along with their benefits and drawbacks, all based on Unihair data.
I recommend a safe option for extension – U/I/V Tips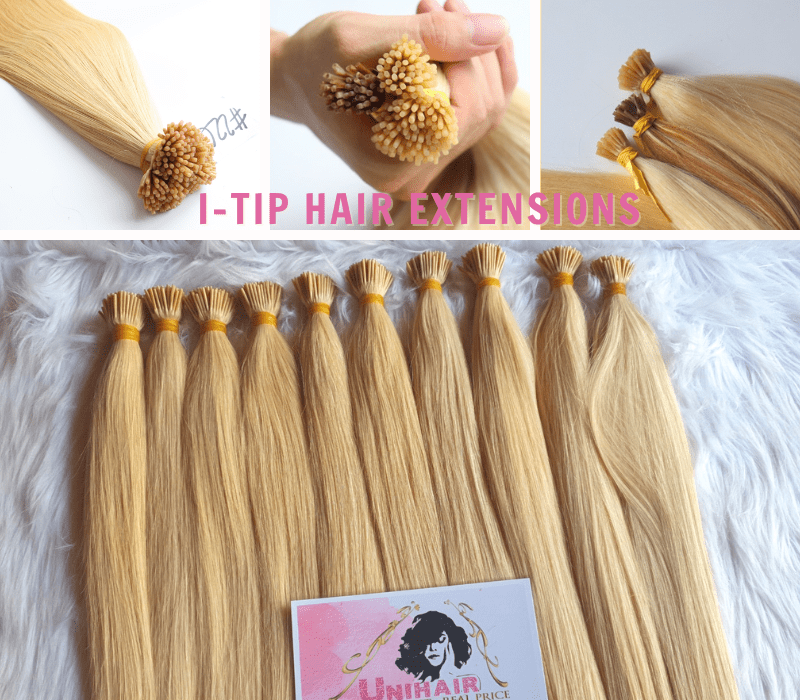 A cold fusion technique is used to tip from facilities owned by wholesale hair merchants. Typically, a hair stylist will install hair using a fine comb, a pulling needle, rings, and a ring axe.
In terms of the hair extension qualities, this kind of hair extensions are common in that they consist of individual hairs that are grouped into larger strands. Since the grouped strands are still quite thin, they can easily mix in with the users' own hair. Next, a cylinder-shaped piece of cold hair glue is applied to the tip of each hair extension strand. I tip hair extensions are referred to as such for the same reason.
I-Tip hair extensions' advantages
Short locks are the ideal length for I-tip hair extensions.
For a variety of reasons, many women struggle to keep thick, gorgeous locks. These women may now improve their appearances thanks to the invention of hair extensions. Does the appearance of your natural hair seem lifeless and dull? I-tip hair extensions are a good idea to keep in your wardrobe since they may give you the total makeover you want.
Finally, you can fully regulate the length and volume of your hair without having to use several hair care products for months or even years. Additionally, the sheen and smoothness that these extensions offer will live up to your expectations.
Excellent Replacement For Hot Fusion
I-tip hair extensions are more commonly referred to as cold fusion than U-tip hair extensions as hot fusion. Before we go into the benefits and drawbacks of utilizing U-tip hair extensions, it is important to comprehend why girls dislike the hot fusion method. You should allow three to four hours to complete the extension procedure.
Furthermore, you require a professional's help to install the extensions. U-tip hair extensions require weekly upkeep. Your U-tip hair weaves may cause you a little discomfort when wearing them. Hair strands might easily come out because connections can break down in hot environments. I-tip hair extensions are thus the best alternative to the hot fusion procedure.
You can affix stick tips at home.
I-tip hair extensions may be installed at home without the assistance of a professional if you have the necessary tools and skills. This is often one of the major benefits for ladies who wish to cut costs throughout the installation procedure.
Natural Strands Are Not Hurt
The impact on your natural hair strands is one of the key advantages and disadvantages of alternative weaves compared to i-tip hair extensions. The damaging consequences on hair make most individuals shy away from wearing weaves. They have never used i-tip hair extensions, which do no harm to natural strands. The hair extensions must be installed correctly without the use of any harsh chemicals or instruments.
The natural hair and the weaves won't be harmed if the extensions are properly cared for. There is no chance of breaking the hair strands when applying the extensions because you don't need to utilise heating equipment.
The Drawbacks Of I-Tip Hair Extensions
Technologies Are Required for Installation
It doesn't seem like a disadvantage to acquire specialised hair tools, but some individuals choose not to do so, therefore it is worth mentioning. If you don't have access to beads and pliers, you can't use i-tip hair extensions.
Nonetheless, you can simply get these items in a store or salon, and they are quite affordable. Because the ends of hair extensions might become damaged, you must understand how to utilise these instruments before placing them.
Installation Is Sometimes Incredibly hard
Women may put these hair extensions in themselves, but for total beginners, the process could appear difficult. The hair strands and beads make it simple for a novice to become perplexed. Discover the most effective technique to section your hair, how many hair strands to insert, how to obtain hair strands through the beads, and how to seal the beads.
The process of brushing and washing is really challenging.
It may appear really difficult to wash and brush your i-tip hair extensions when you use them. Take cautious and allow the hair extensions extra time to preserve them. You shouldn't brush i-tip hair extensions while standing near to the beads. Brushing should begin at the end. Cleaning these extensions requires only a little touch. Try not to pull or rub the hair extensions.
U-Tip Hair Extensions: What Is it? – U/I/V Tips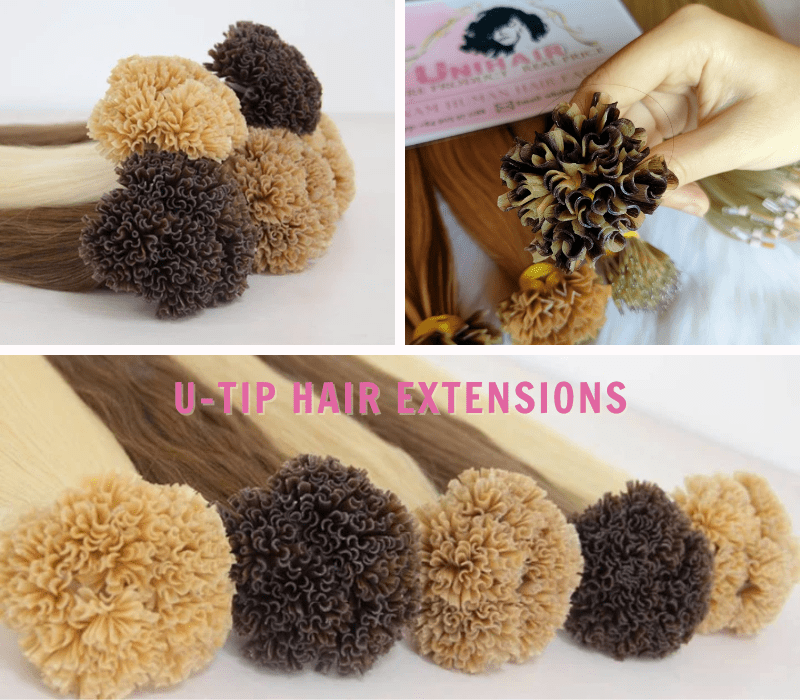 By heating the keratin tip at the end of the extension, U-Tip Hair Extensions are a particular kind of extension that are put on the hair. When linked to your natural hair, the extensions resemble a little wisp of your own hair with a dry tip made of keratin at one end. The application of hair extensions using keratin has been around for a while and is a highly common way of fitting. Simply heating the keratin tips and clamping with a heat connection will prepare the hair pieces for attachment to the client's own hair.
U-Tip Hair Extensions: How Are They Applied?
The keratin tip of these extensions would be melted against tiny pieces of natural hair during the fitting process using a heat connection. As keratin can heat up and cool down fast, making it easier to apply, the melted keratin is then securely rolled around the natural hair to create a perfectly sealed connection.
To apply the extensions, you must, however, be professionally trained or a licensed professional. If you try to install hair extensions without the necessary training, it might result in a bad fit that harms the hair. It is crucial to have your hair extensions fitted by a skilled expert to ensure the application is done properly. The extensions might also be put too closely to the hairline, which may allow them to become apparent.
U-Tip Hair Extensions: How Do You Take Them Out?
The bindings need to be properly broken down and removed from the hair, depending on the kind of keratin that was employed. A disconnector should be used in conjunction with the American Dream Keratin Bond Remover to assist release any dried resin that may still be present on the natural hair. We advise delaying the use of the disconnector for a few seconds after using the Keratin Bond Remover to give it time to penetrate if the extensions have only been used for a little length of time. 
If this is the case, the seals may be challenging to break. Once the strands have been taken out, gently brush the natural hair to allow any loose hair strands to fall, which is a normal process of shedding and should be anticipated.After that, the hair will be rinsed and treated as usual, making sure to get rid of any acetone and residues.
What do V-tip hair extensions consist of? – U/I/V Tips
Extensions with a V shape at the tip are known as "V tip" hairstyles. In Unihair, it quickly rose to the top of the popularity list. Due to its simplicity of usage, V tip hair draws a lot of customer attention. This extension is a specific type of hair extension that has keratin attached in the shape of a V to the hair strand tips.
You need specific equipment to melt the keratin tip before you can attach this hair extension to your hair. Your hair will then be readily linked to the V-tip hair extension after that.
V-tip hair extensions are becoming more and more common. The reason is that it will be firmly and permanently affixed to your hair. In comparison to bulk hair extensions and weave hair extensions, its cost is a little greater.
The V-tip hair extensions' texture
We provide a variety of V-tip hair extensions based on the following standards:
Straight hair types include natural, yaki, and kinky straight.

Wavy hair types include natural, body, water, deep, and loose waves.

Curly hairstyles include deep curls, loose waves, kinks, romantic waves, and fumi waves.
In Conclusion
The benefits and drawbacks of U/I/V tips hair extensions should now be clear to you. Utilising these hair extensions has more benefits than utilising other kinds of hair extensions. The best choice will be one U/I/V tips hair extension if you have thin or short hair.
+ Phone/Whatsapp: +84 905 97 1188
+ Email: wholesale@unihairvn.com