For those who are new to the hair industry or amateurs, we offer basic information regarding frontal wig hairstyles in this initial section.
Hairstyles for frontal wigs: Four stages to a beautiful accessory
There are increasingly more types of products to pick from as the hair market becomes more established. To meet the demands of different clients, hair extensions are available in a range of styles. Due to its practicality and unique appearance, frontal wig hairstyles have become one of the most popular hair accessories. If you're looking for a thorough evaluation of this product, be sure to read our post. We'll give you a basic overview of the frontal lace's characteristics.
What is the frontal lace in frontal wig hairstyles?
A piece of net with correctly attached or stitched hair strands is called frontal lace. Contrary to middle part lace closures, this hairpiece comes in a variety of styles, including ponytails, side parts, and even the center part. The typical size is 4 by 13 inches, which may cover your whole hairline.
Along with frontal lace, there are different kinds of lace extensions, including wig and closure. The only variation between them is size; they were all made using the same manufacturing process. The smallest size of closure lace, which is often fixed on the top of the head and measures 34 or 36 inches, is used. The user's whole head may be covered by the wig thanks to its 3D design.
The advantages and disadvantages of frontal wig hairstyles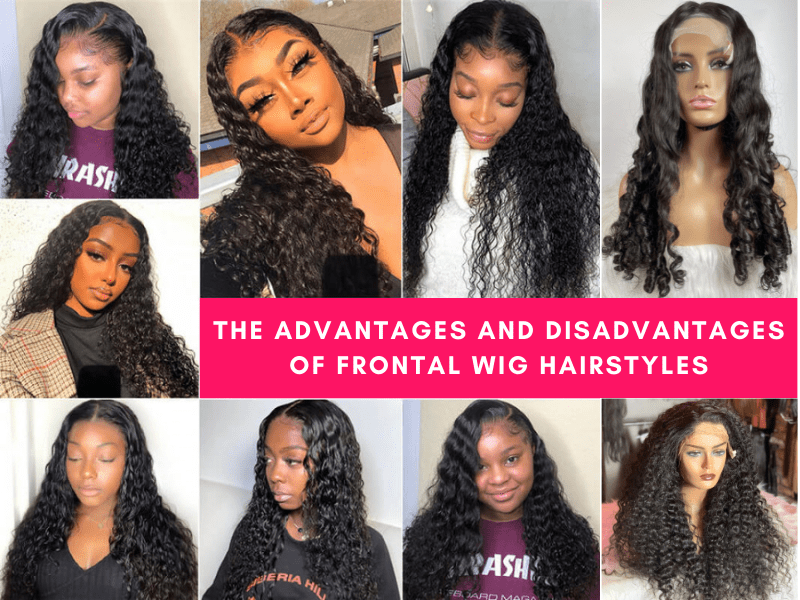 The advantages of frontal wig hairstyles include:
The most trustworthy products on the hair marketplace, with a protracted lifespan, are hair extensions from a reputable wholesale hair manufacturer. The strands of people's hair can be dyed or bleached with little tangling or breaking. If the extensions for the main element of the lace closure are properly cared for, the product can last up to a year.

The frontal portion pieces and lace closures may be applied without the need of adhesive or heat, therefore they can be used on natural hair and scalp. Therefore, the user's actual hair follicles and head skin can be shielded from being damaged by extreme heat or other impacts.

Hair lace, particularly the human hair extension strands, offers the most realistic look because of how closely it resembles actual hair. Its hair seems silky and smooth after being applied. Additionally, bleaching knots would make the hairline look more natural and similar to the participant's scalp.
The drawbacks to this hairstyles include:
If you have never used this hair product before, it could be challenging to apply because it is applied to the top of your head, making it hard to see the entire region. On the other hand, you may see instructional videos on YouTube that will guide you through the procedure step-by-step.

Being pricey: Since human hair is the highest-quality material available for middle part lace closures, as was already said, the cost of this product is more than that of other types of hair extensions, such as synthetic or fabric hair extensions. The cost is still seen as reasonable, though, because quality is correlated with cost.
Types of lace used in frontal wig hairstyles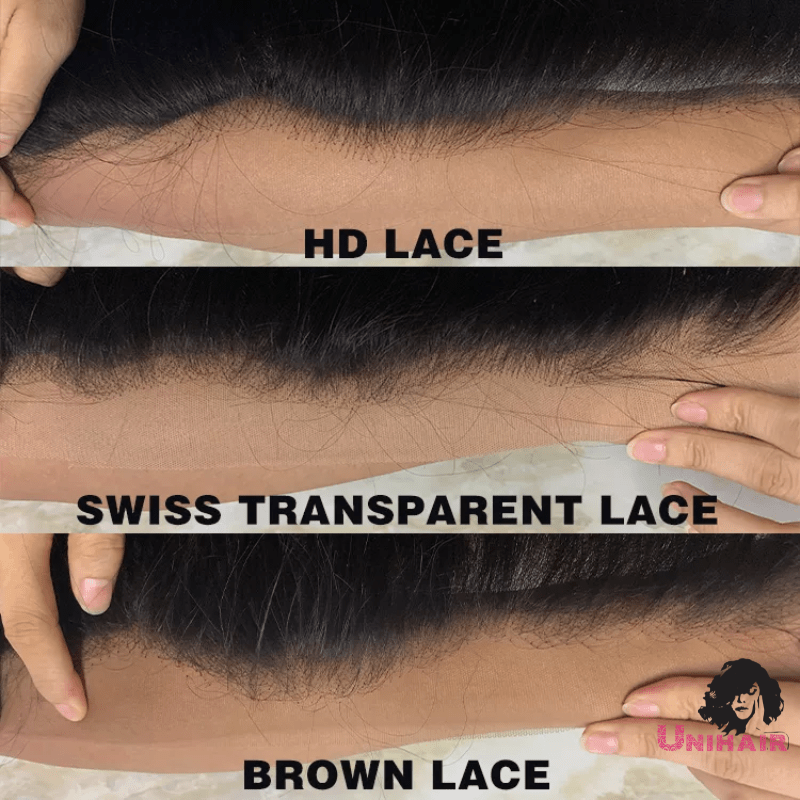 The common lace materials used for this hairstyles include standard lace, HD lace, and transparent lace. In brief, these two categories are as follows:
Hairstyles for HD lace

: The 100% virgin hair used to affix the lace is invisible and undetectable. The users of this kind are permitted to display their own hairline. You can reduce perspiration and make it blend into your scalp because this is the thinnest lace frontal.

Hairstyles for standard lace: This is the most affordable lace option for many people to buy. Compared to the HD lace frontal, it is less transparent and more difficult to blend into the scalp. In order for the hairline to seem natural and integrate with the skin, bleaching the knots is necessary.

Transparent lace

: While HD lace frontals are a variety of Swiss lace, transparent lace frontals are also a variety of French lace and have the most appropriately proportioned Swiss lace. It is said to be light and ventilated, but it cannot be as near to the head's flesh as HD lace wig hairstyles. Women with pale skin tones are favored users of this style.
How to maintain frontal wig hairstyles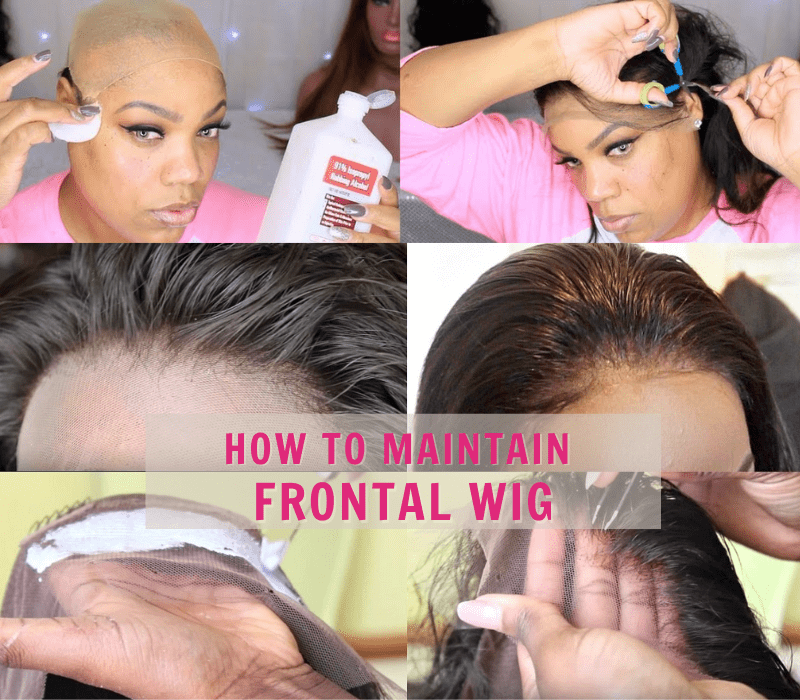 To make sure that the frontal wig hairstyles endure as long as possible, you must adhere to a certain maintenance procedure. Here are some tips to maintain your middle part lace closures products in good shape:
You should wash your hair at least once a week to properly care for your frontal lace. Wash the hair with cold water after rinsing the lace in warm water since warm water makes the hair strands weaker and makes them more likely to fall out or break.

Before applying the frontal lace, make sure your scalp is clean. Don't forget to wash your hair and maintain your scalp tidy before putting on the frontal wig hairstyles. Considering that this product will be on your head for a while, you should take precautions to ensure that it doesn't pick up debris from your scalp or natural hair strands.

Spend money on hair care and cleaning supplies: Pick a shampoo that is suitable for the texture of your hair. Make sure to choose shampoos with natural components to avoid the harmful effects of chemicals. You must apply a thorough conditioner to your hair after you've washed it. Apply the moisturizing hair oil every day to keep your frontal lace smooth and nourished.
Common haircuts for frontal wigs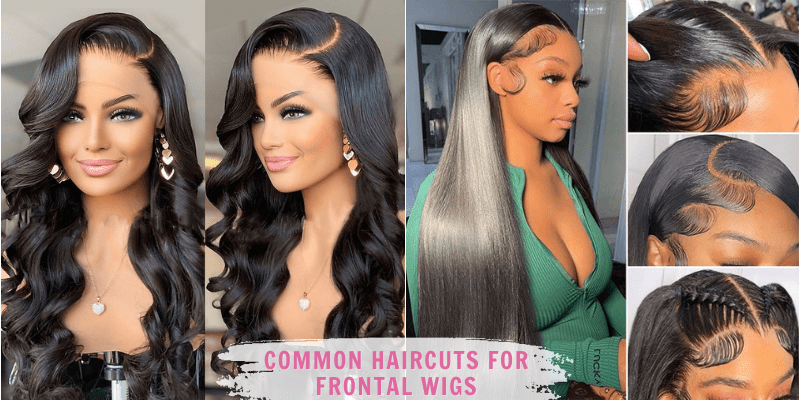 Straight haircuts for the front: One of the most popular hairstyles for hair extensions available is this one. Straight hair may be styled into braids or colored in a variety of hues. With the strands meticulously flattened for a realistic and smooth appearance, you may get contemporary bone straight human hair frontal wig hairstyles. Another option for making yourself appear younger is straight hair with layers.

Hairstyles for wavy

 wigs are available in a variety of textures, including curly, wavy, zigzag, and more. As opposed to tight curls, which make you look static and lifeless, loose curls offer you a feminine, lovely appearance. Along with retaining the lace closures in the middle part, you must think about how to define curls after getting this haircut.

Dreadlocks on a frontal wig: Human hair loc extensions appear to be the best choice because the process of making dreadlocks requires so much time and effort. Braiding or twisting your natural hair won't cause you to experience scalp pain. Hairstyles for frontal wigs may handle both single-ended and double-ended dreadlocks.
The best way to use frontal wig hairstyles
The following steps should be followed to put on frontal wig hairstyles:
Process 1: Thoroughly wash your hair to ensure a clean scalp, which is where the hair extensions will be attached. Before applying the lace, make certain that your hair is totally dry.

Process 2: Lay your natural hair flat on your head; the nicer the lace looks against your scalp, the flatter your hair is. Although short hair may simply be flattened with gel, long hair has to be coiled up or covered by lace.
Process 3: Before fastening the frontal

wig hairstyles, position and adjust it. Just make sure your hat covers your hairline just enough since, unlike a wig, a frontal wig just covers a certain area of the head.

Process 4: Use a mild cleanser to wash the skin around the application area to get rid of any oil or stickiness. Spraying the scalp protector on the head to create a barrier between the adhesive and the skin of the forehead.
In Conclusion
Asia is renowned for having nations like Vietnam that export the best frontal wig hairstyles that are appropriate and skilled. One of the top wholesale hair suppliers in Southeast Asia and Vietnam is known as Unihair Factory. They manufacture lace frontals using the finest human hair that is available in the mountainous regions of their country, and they process them using a secret technique that has gained them renown on a global scale. Contact the staff via the hotline on the Unihair official website if you want to start a hair business with this respected supplier, and you'll get fantastic customer service.
+ Phone/Whatsapp: +84 905 97 1188
+ Email: wholesale@unihairvn.com