Tape-in extensions are a quick and easy solution to add beautiful volume and length to your hair for between one and two months.
Tape-In Hair Extensions: The Ultimate Quick guide
Numerous girls and women dream of changing their original hairstyle to one that is longer, fuller, more abundant, and even highlighted. Adding hair extensions has been the most typical approach to accomplish this. There are many different types of hair extensions, although if you really want thick, voluminous hair that lasts a long time, tape-in hair extensions are the way to go! In this essay, we'll tell the truth about these amazing hair extensions. Let us see what we can find!
What is the meaning of tape-in hair extensions?
Tape-in hair extensions refers to hair strand extensions attached to adhesive tabs. Those tabs are the same as medical-grade adhesives used to close wounds and cuts.
Tape-in hair extensions are available in a number of lengths, styles, and colors to suit a wide range of clients' demands. Because of its amazing quality and benefits, tape-in hair extensions have become a must-have item for hair aficionados.
Hair extensions that are taped in are a convenient method to add length and volume to your hair without the effort of applying adhesive or weaving them into your existing hair.
They're typically constructed of 1.5-inch hair wefts that are taped to the scalp with a specific adhesive or specially developed tapes.
Latex or silicone compounds are commonly used in adhesives because they cling effectively to both dry and wet surfaces. Once you've fastened these pieces on top of one another, avoid brushing across the area where they've been applied to avoid tangling!
What is the procedure for applying tape-in hair extensions?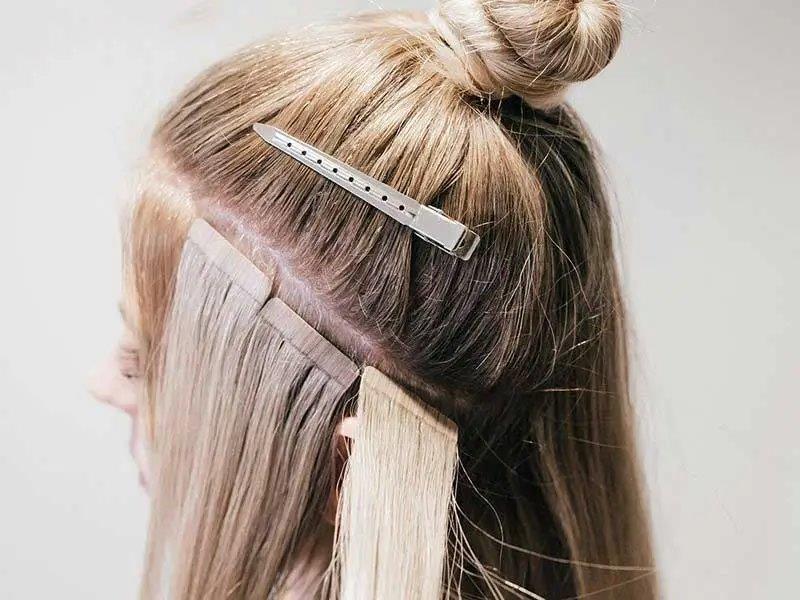 The method tape in extensions work is mostly determined according to how many hours you want to invest maintaining them on a daily basis: if you're searching for a quick and simple solution to acquire a fuller, thicker hairdo, all you'll need is an hour or two per week!
Before you use them, you really should wash your hair to ensure adequate adhesion. With a towel, completely dry the roots of your natural hair. The glue won't work as effectively if it's too damp.
Now everything is time to apply the tape: start by removing one piece of extension at a time and applying it to dry strands on top of your head where you want additional volume and length, using either latex or silicone compounds. While doing this, be careful not to overlap any parts, since this may form tangles that will be tough to untangle afterwards!
After you've applied the extensions, you'll need to visit the salon every six to eight weeks for upkeep.
What Is the Average Life Expectancy of Tape-In Hair Extensions?
The tape-in hair extensions are usually used for 6 to 8 weeks. You'll have to reinstall it if your hair grows really quickly. If you need your tape-in extensions reinstalled, go to the salon and have your stylist do it for you. First, the stylist will remove it with a light bond remover before reinstalling it. This is usually used to detach the extension and slide it out. Your stylist will then remove the old tape from the weft and replace it with a fresh one. The longer you take care of your natural hair and the tape-in extensions, the longer they will last.
How To Keep Tape-In Extensions Looking Great
You may certainly wash your tape-in hair extensions the same way you would your natural hair. You may also style them in any manner you desire. However, if you want to keep its natural look and texture, you might probably give it a little more attention. It is preferable to tie your hair into a loose braid when sleeping to avoid straining the wefts. You may also use a natural hair treatment once a week to keep the tape-in hair extensions' smooth and silky texture.
Damp hair should not be tied, and wet hair should not be slept with. Furthermore, it is not required to wash your hair every day. If you're going to use any oil, serums, or other hair products, avoid putting them on the tape. Simply apply to your hair. Heavy rinsing and deep oil treatments must be avoided where possible.
What is it like to use Tape In Hair Extensions?
Many individuals are curious about the experience of using remy human hair extensions. The reality is that there are a variety of things that influence how they are worn by various people! Anyone with any type of hair may use tape in extensions, and they're pretty simple to apply at home! It's also possible to have them professionally applied by someone who has been trained in their use.
People are increasingly using remy human hair extensions to add length, thickness, and structure to their hair. They're a terrific method to update your look while remaining low-maintenance! Some people choose for tape in extensions because their hair is thinning and needs to be thickened. Others may favor them because they allow them to add length without committing (tape ins can be easily removed). Whatever you're searching for, there's almost certainly an extension out there wanting to join your head of gorgeous locks! Hopefully, after reading this guide, you'll have all the knowledge you need on what it's like to wear Tape-In Hair Extensions!
What is the best way to clean tape-in hair extensions?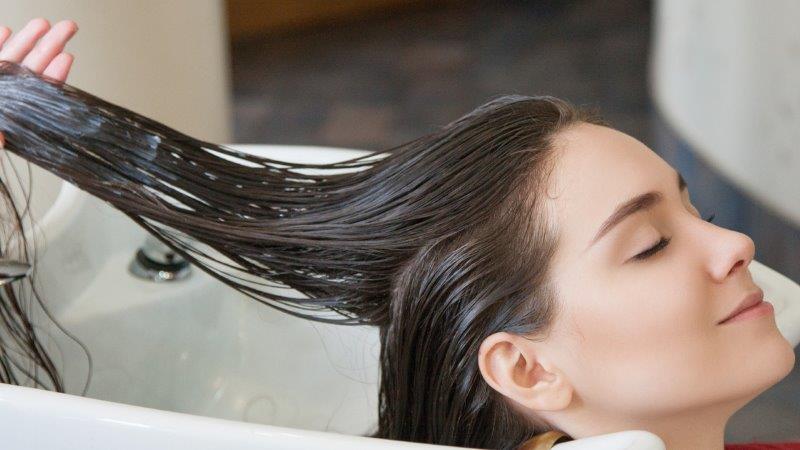 Begin by carefully brushing out any tangles from your extension hair as much as feasible before washing it to avoid getting any little knots or snarls stuck in the brush when attempting to wash the extensions. This way, whenever we start washing them, they won't get any worse than they currently are.
Next, soak your remy human hair extensions with a low-pH shampoo and lukewarm water, holding the comb in one hand and the extension from the other. When doing this, be careful not to pull or tug on any of your natural strands! The idea is to totally soaked all areas while avoiding making it too wet to the point where you notice traces of dripping from the ends that are still linked to your own head (if applicable). If there's a region that doesn't appear to require any washing, skip it for the time being.
Take these Tape-In Hair Extensions and carefully wring them out after washing out the majority of the suds formed by our low pH shampoo. A few really people prefer to use a hair dryer and blow it across the extensions for about five minutes before getting them upright to air dry overnight, but this isn't necessary if you plan on wearing these extensions frequently or putting them back on right after taking them out to avoid getting tangled up in snarls from your own head!
In Conclusion
Hopefully, I believe that this guide on tape extensions information has given you a good understanding of the subject. Use a sulfate-free shampoo and conditioner whenever possible. Wash your hair for 72 hours after you've inserted the tape-in hair extensions to allow the glue to settle correctly. This tape-in hair extensions is reversible.
If you want to straighten or curl your hair, tape-in hair extensions can help. However, do not iron your hair at the roots. If your hair is thin and short, don't be concerned. Tape-in hair extensions are a great way to keep your hair looking fashionable whenever you desire.
---
Contact us:
+ Phone/ Whatsapp: +84 905 97 1188
+ Email: wholesale@unihairvn.com