A topper hair is a headpiece that sits on the crown of the head to conceal the early, middle, and severe phases of hair loss.
What exactly are topper hair, and how do you choose the right one?
You could have come across topper hair if you're trying to give your hair more volume. But just who or what are they? Similar to a full cap wig, are they? Perhaps hair extensions? What sets them apart, if not that? In the first place, how do you even choose one? In order to help you decide if they are the right hair replacement system for your requirements. We at Unihair have prepared this guide that will illustrate what they really are and just about everything that you'll want to know about them.
Topper hair: what are they?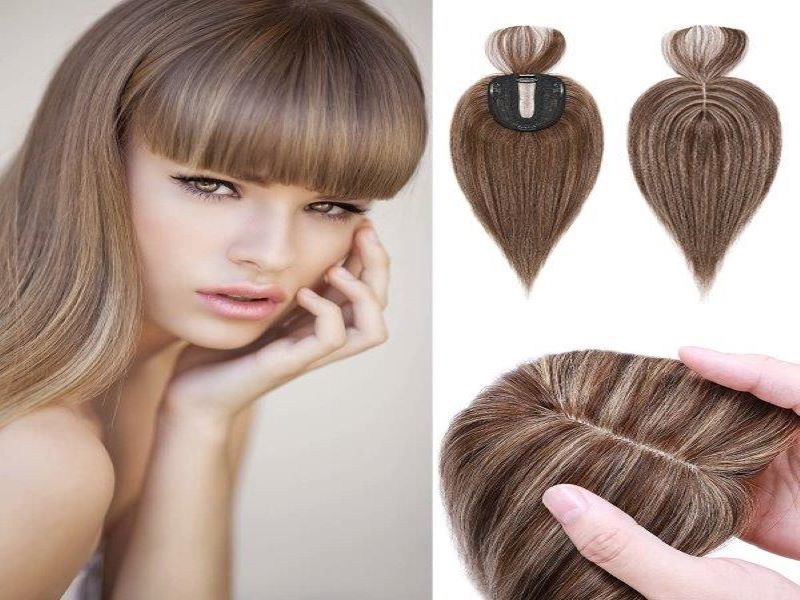 Topper hair, sometimes known as "wiglets" or "half wigs," are a more compact hair system created to cover up bald spots on the head rather than the entire scalp as is the case with wigs.
Hair toppers, as their title suggests, are administered to the areas on the center of the skull, as opposed to hair extensions, which are placed to the rear of the scalp or the forehead area.
Pick the ideal topper hair in 3 simple steps
Step 1: Determine the extent of your hair loss
Locate the bald spot or the required level of covering. The clips must be able to be attached to enough hair, which is why measuring is crucial.
Measure the region where you are losing hair as well as the size of your forehead from the front to the rear and from side to side. The topper hair you ultimately choose will then be suitable for you in terms of fit, and you will know whether it is. This will come into play when choosing the foundation material for your hair topper in the next phase.
Step 2: Choose the fiber
You may choose the right fiber by being aware of your lifestyle and what you want from your topper hair.
To discover more about the advantages and disadvantages of each fiber, view the chart. Using this knowledge, you may choose the fiber that most closely fits your lifestyle. Consider how many hours you would really like to spend styling or taking care of your hair, as well as how much style freedom you desire.
For instance, you should probably select a synthetic topping if you're a busy person with little time for style and care.
You'll probably choose human hair if getting the most natural appearance and having a lot of style options are your top priorities.
Step 3: Color match
Finding the ideal shade to go with your natural hair is the final step! We advise using a color ring when matching colors at home. The samples and images on our website are intended to give you a general impression of our colors. But they won't always be exact owing to differences in device displays.
Here are a few of our suggestions for coordinating colors:
As there is a tiny color difference between each fiber, choose the color ring that corresponds to the fiber you have chosen.

One to two inches are placed beyond the front hairline while applying toppers. Because your biological hair is often lighter around your face, you must match the topper's color to that of your natural hair.

A natural and seamless appearance may be achieved by combining and shaping your natural hair with the topper.
How should I style my topper hairpiece?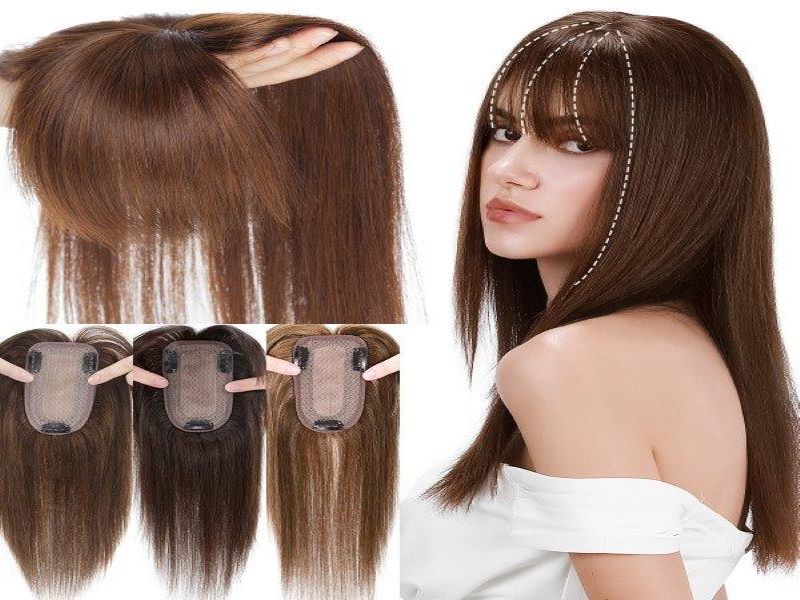 You may use adhesive or tape to attach and maintain your topper hair, just as with a wig or toupee, and solvent or remover spray to take it off after you're done with it. Some toppers include clips that you may use to connect them to your natural hair. But if they aren't fastened or blended well, they might seem a little heavy.
Because the hair system will remain level on your head, glue or tape is recommended. If your topper hair has clips, you should be able to take the clips out without having an impact on the rest of the hairpiece.
Who uses hair toppers, and why do individuals use them?
Similar to hair extensions, most women use hair toppers, with the toupee serving as the male counterpart. To begin with, though, why do they wear them?
Hair toppers are useful for both rapidly covering bald or significantly thinning areas on the top of a woman's head and for enhancing thickness and density. Women who suffer from androgenetic alopecia or female pattern baldness will find this to be especially beneficial.
Therefore, topper hair can merge with a woman's natural hair if they are groomed and applied properly. Giving them the illusion of having a natural, full head of hair. Women will experience an increase in self-esteem and beauty as a result.
Even if my natural hair is short, can I still wear an 18-inch topper?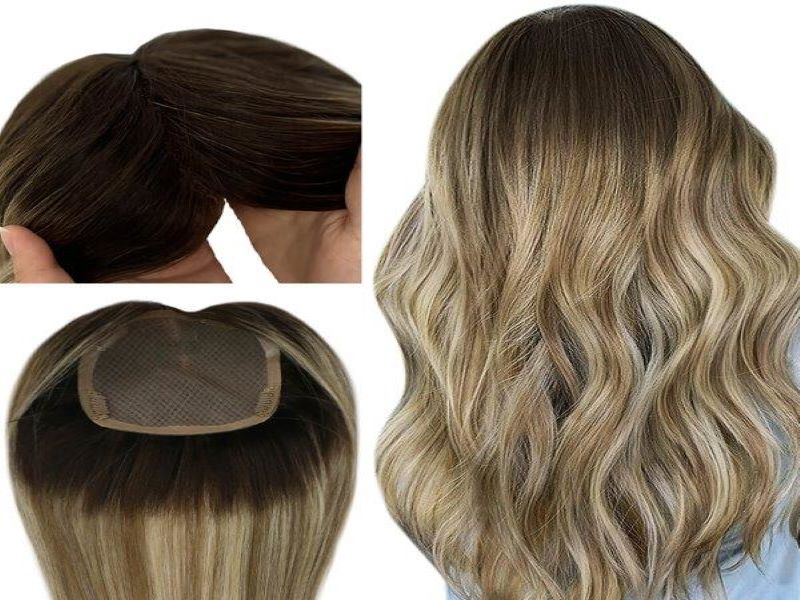 The length of your natural hair and the location of the hair loss eventually determine this. Obtaining a hair topper up to 18 inches long shouldn't be an issue if it conceals your bald areas or thinning hair.
It may be worth switching to a comprehensive cap human hair wig if you notice that your bald spots are becoming larger or aren't entirely covered by your topper hair.
How Should Hair Toppers Be Cleaned And Treated?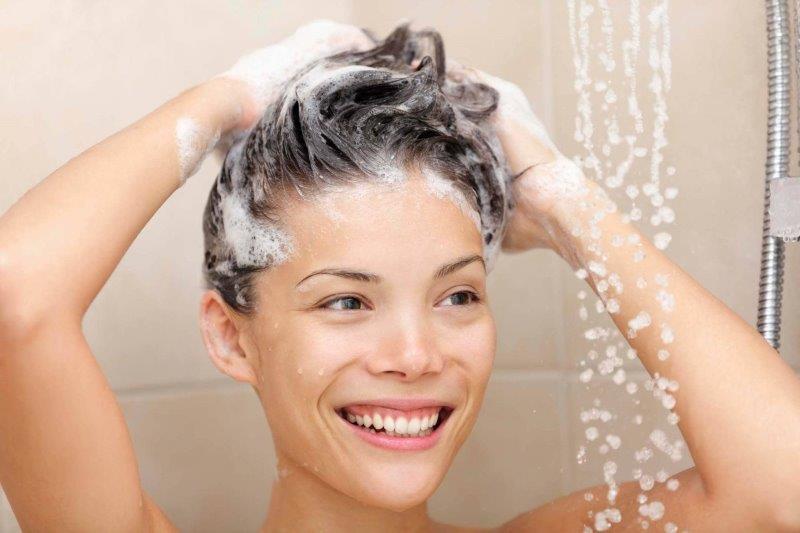 Not as frequently as your own hair, your headgear needs cleaning. Washing your conditioner once every two weeks is what we advise.
Even though you could believe that it has been too long since you last washed your hair topper. It really doesn't require that frequently. This is due to the fact that the top hair won't be greasy since it doesn't absorb oil from the scalp as your own hair does.
The life of your top hat will be shortened and dried out if you wash it as frequently as you wash your own hair. If you are on vacation, for instance, you don't need to shower your head before you get home even though it will gather dust and other harmful emissions.
How long is the conditioner beneficial for?
Your hair cap can last anywhere from six months to more than a year if you take proper care of it. When not in use, keep your hair in a box to keep it from gathering dust. And use sulfate-free shampoo and conditioner to preserve the life of your hair.
Because they won't take away the grease from the hair, sulfate-free products can prevent the hair from drying out. Because your hair is not fed by scalp oil like your own hair is, using deep conditioners, leave-in conditioners, and essential nature on a regular basis to make sure your hair stays soft.
In Conclusion
Topper hair is a terrific way to increase volume, improve your appearance, and cover up hair loss and thinning hair. It's not surprising that they are a highly popular choice for ladies given their simple installation procedure and lengthy lifespan.
+ Phone/Whatsapp: +84 905 97 1188
+ Email: wholesale@unihairvn.com